Posted by on August 20, 2011 – 7:12 pm
As the regular season inches closer and closer, I want to start a weekly segment that highlights some of the biggest fans in Redskins Nation.
I firmly believe that every fan has a story about bleeding Burgundy and Gold, and that's exactly what I want to share with your fellow fans.  It can be anything: audio, video, pictures (just keep it relatively clean!).  You don't win anything except a blog post and bragging rights, but I really want to see the Redskins finest get some exposure.
The inaugural Unofficial Fan Award goes to Redskins fan Kevin [pictured above].  Kevin commented on a blog post several weeks ago, boasting that he has a Redskins room that tops all Redskins shrines.
He did a pretty good job in my book, but see for yourself how he measures up:

The video is pretty long, so in case you just want the highlights, here you go:
Kevin calls himself LaRon Landry's biggest fan, and he's not kidding.  Landry's mother doesn't have that many pictures of LaRon.
He has an autograph from former NFL tight end Lee Vickers.  Vickers was only on the Redskins for one offseason, getting cut last September.  Kevin got him while the getting was good.
He saved the 75th anniversary beer bottles sold at the stadium.  It adds a nice touch to the room, if you ask me.
Tucked away with the Redskins gnome and cheerleader bears, Kevin has his Metallica Ride the Lightning album.  Rock on brother, but I prefer the self-titled Metallica album in terms of legacy.
For me, the coolest items in his collection were the ticket and game program from the first game at Jack Kent Cooke Stadium.  For a fan like Kevin, who admittedly doesn't make it to many games, those are really priceless items.
Besides what he showed in the video (and alluded to in the hallway), Kevin also has a few trading cards: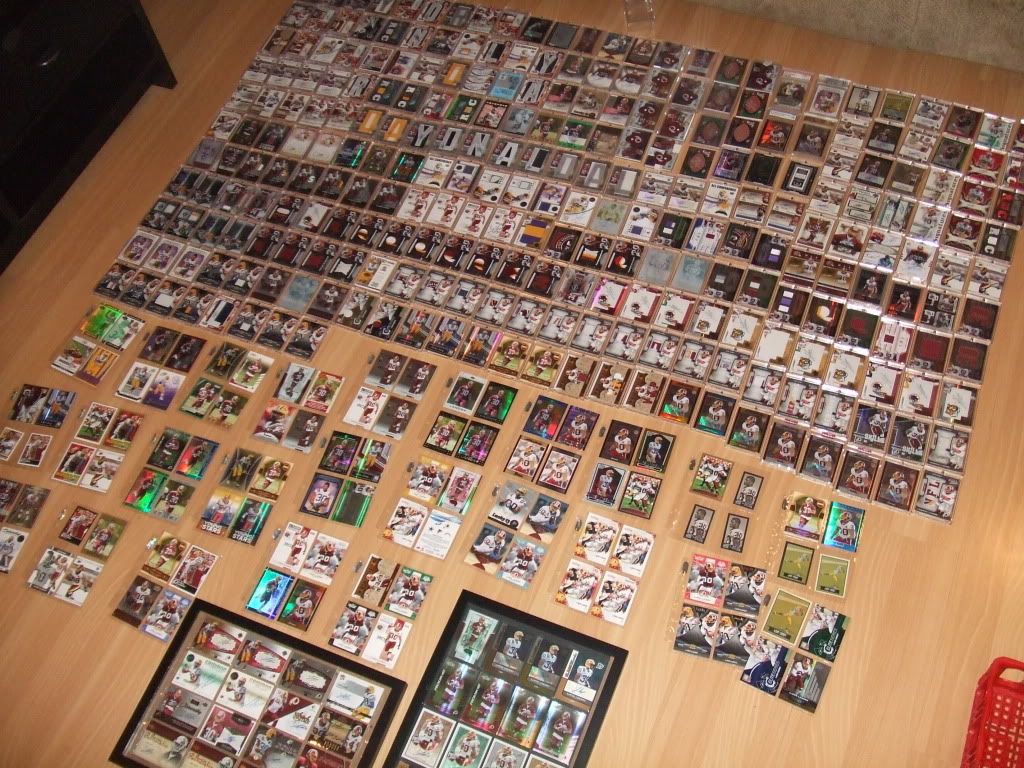 Perhaps the most unfortunate aspect of his collection was his array of autographed Devin Thomas rookie cards: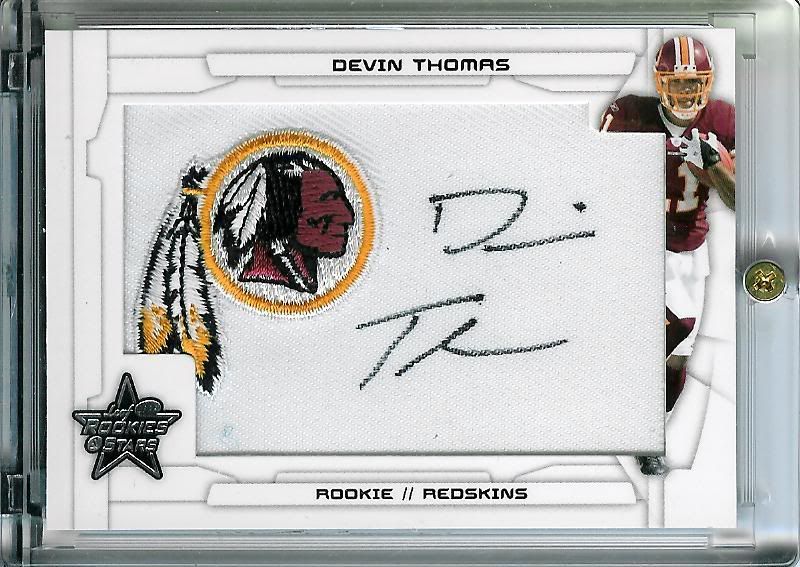 Well, they aren't all winners, but pretty good overall.
Kevin has thrown down the unofficial gauntlet on this unofficial fan contest.  How do YOU measure up?
Be creative and send me your best.  Good luck and Hail!
Tags:
biggets fan
,
fan of the week
,
LaRon Landry
,
washington redskins
Posted in
Uncategorized
|
7 Comments »